Round table "I Life Sciences Investor Capital Forum" by Josep Lluís Sanfeliu (ASABYS), Raúl Martín-Ruiz (YSIOS), Alain Huriez (Advent France Biotechnology) and Sara Secall (Inveready), will be moderated by Miquel Costa (Foro Capital Pymes).
Investment in life sciences and health businesses has increased 12-fold in the last decade. The number of international investors betting on these companies has doubled in just 2 years. Some of the most prominent investors in the sector will participate in the round table.
Josep Lluís Sanfeliu (ASABYS): Asabys Partners is a venture capital firm from Barcelona investing across the board in human healthcare. We are active in the health-tech and biopharma industries and aim to invest in Spain and abroad in highly innovative and transformative technologies.
Asabys started operations in 2019 and is currently fundraising its first fund, Sabadell Asabys Health Innovation Investments, with a target size of €70M, with the participation of Banc Sabadell as anchor investor in their strategy to promote the healthcare innovation entrepreneurial ecosystem.
---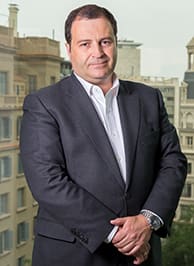 Raúl Martín-Ruiz (YSIOS Capital): Ysios Capital is a leading Spanish independent venture capital firm that provides private equity financing to early- and mid-stage human healthcare and life science companies. We target the biotechnology industry, with an exclusive focus on therapeutics.
Founded in 2008, Ysios Capital has € 191,4 million in assets under management through its two funds: Ysios BioFund I (€65 M) and Ysios BioFund II Innvierte (€ 126M).
---
Alain Huriez (Advent France Biotechnology): Advent France Biotechnology is a French Life Sciences Venture Capital firm dedicated to seeding healthcare's step forward. Advent France Biotechnology is supported by Advent Life Sciences, one of Europe's leading venture teams investing in Life Sciences businesses, giving us direct access to their team of 15 investment professionals.
Advent France Biotechnology will apply the investment methodology of Advent Life Sciences that has proven to be highly successful in seeding, creating and supporting early stage Life Sciences projects in the UK and the US for 4 decades.
---
Sara Secall (Inveready): Inveready is a leading asset manager in Spain investing in early-stage technology-based companies. We currently invest through 4 verticals (Venture Capital in Digital Technology, Venture Capital in Life Sciences, Venture Debt and Hybrid Financing for quoted companies in growth markets), with +€330M of assets under management.
Inveready Biotech III is a €30M fund raised in 2018.  We invest in Drug Development companies that have an in vivo efficacy proof of concept and initial toxicology.  We also invest in Enabling Technologies (Bioprocessing, Digital Health) and Consumer Health.
---
Pablo Cironi (Caixa Capital Risk): Caixa Capital Risc, CriteriaCaixa's venture capital manager, is a leading institutional investor providing equity capital and loans to innovative companies. Through various specialized vehicles, we invest in the first rounds of capital (seed phase) and accompany them in the following stages. Caixa Capital Risc currently manages 195 million euros and invests primarily in Spanish companies in various fields, including Health and Life Sciences: therapeutic treatments, medicines, technology and health services.
---
Moderator:
Miquel Costa (Foro Capital Pymes): Co-founder and Chairman of Foro Capital Pymes and Chairman of Keiretsu Forum Spain, the largest network of private investors in the world, he is also board member of various companies in very diverse sectors.
---
Co-organized by:

Sponsored by:
   
Partners: